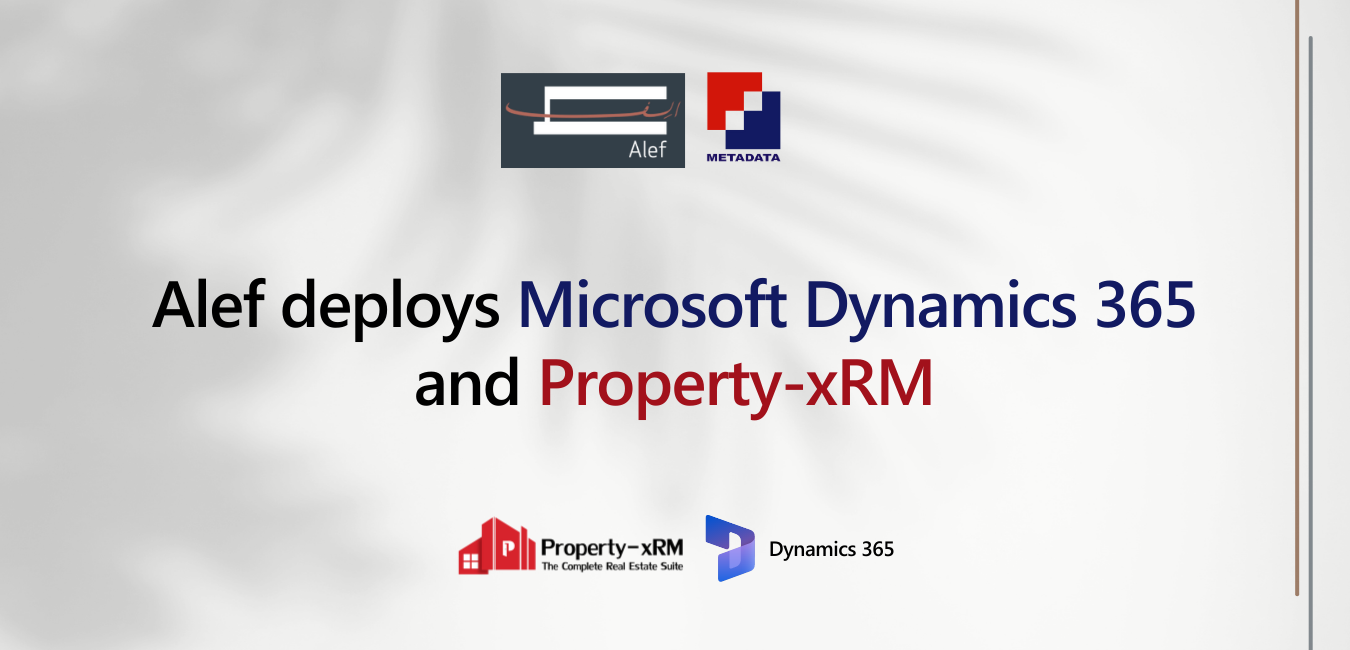 Posted By admin

May 12, 2023

01:43:58pm
Alef Group deploys Microsoft Dynamics 365 and Property-xRM with Metadata
Leading Real Estate Developer takes a giant leap towards offering an enhanced customer experience
Alef Group, the leading real estate and retail developer in the Emirate of Sharjah, has partnered with Metadata Technologies to implement a world-class Customer Relationship Management (CRM) solution. The group selected Microsoft Dynamics 365 and Property-xRM, a Real Estate CRM Solution to streamline customer management, boost operational efficiency, and improve productivity.

"We were on the lookout for an intuitive CRM solution with functionalities that met and enhanced our daily operational requirements. Metadata's ready-to-use industry-standard solution helps in addressing those requirements and allows quicker implementation with customization capabilities," Alef Group stated.
Alef Group's expedited growth will benefit greatly from the automation and digitalization features of the solution. This will significantly decrease the duration needed for tenant onboarding and documentation, ultimately enhancing efficiency and productivity. The system-generated lease contract eliminates the need for manual intervention and can now be completed with just a few clicks of a button.
"This solution will empower our front-end sales executives to have more visibility into their day-to-day client interactions with updated information to drive meaningful conversations with an emphasis on improving customer service. Our customers also stand to benefit immensely from this initiative," stated a spokesperson for Alef Group.
The primary objective of the leading Real Estate Developer is to harness the potential of its fully automated system and utilize its robust reporting capabilities to produce pertinent reports for management purposes. By doing so, the workload on sales support staff will be reduced significantly.
Property-xRM for Sales and Retail Management are equipped with advanced functionalities, including property shortlisting, booking & document management, unit sales management, and post-sales management such as transfer and cancellation, which enable efficient usage.
"We are thrilled to work with Alef Group and look forward to contributing to their digital initiative. With a powerful Microsoft-based solution, Alef will have more insights into their business, and will be able to scale rapidly"– said Mr. Rasheed Muhammed, Managing Director of Metadata Technologies.

The maturity of Microsoft Dynamics 365 and Property-xRM helps to cater to all the major revenue-generating aspects of a real estate company's operations. As Gold Microsoft Partners, Metadata Technologies, a CRM company has been providing solutions to large Real Estate Developers and Property Management companies for over 20 years.
Reach out to us to schedule a free demo for Microsoft Dynamics 365 and Property-xRM.