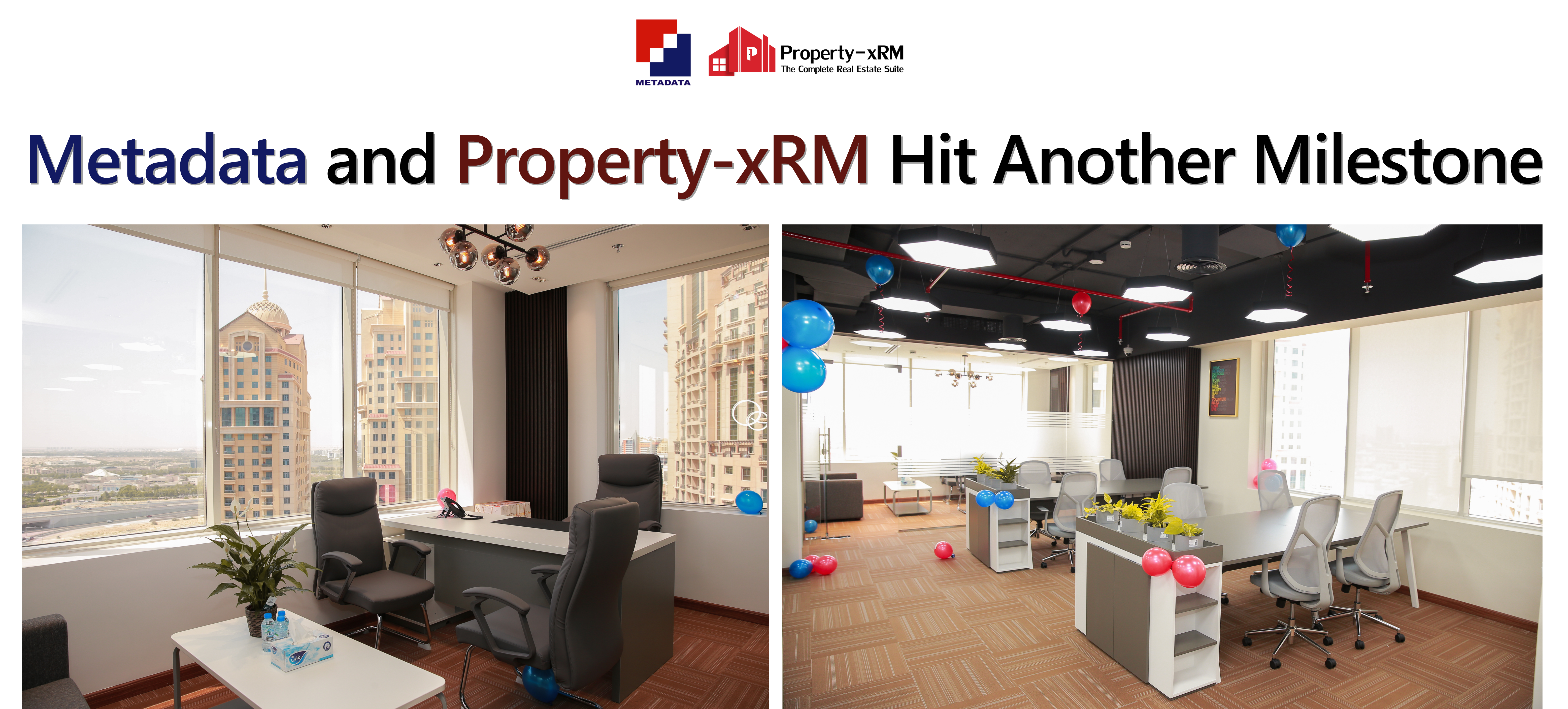 Posted By admin

Jun 27, 2023

05:43:19am
Metadata and Property-xRM Expand Operations with New Office
Metadata Technologies and Property-xRM Inaugurate their Fourth Office at Silicon Oasis
Team Metadata and Property-xRM is growing by the day and our new office is a testament to our commitment to staying ahead of the curve in our domain. At Metadata, our vision is very much intertwined with our Customer Relationship Management Software offering because we believe in delivering the best for our customers and building long-lasting customer relationships.
Our new office in Silicon Oasis was inaugurated on 21st June 2023. Mr. Premchand Kurup, CEO of Paramount Computers felicitated Mr. Rasheed Muhammed, Managing Director of Metadata. We were also joined by Mr. Sajid Madathil who was kind enough to say a few words about his pleasant memories with Metadata.
Mr. Rasheed Muhammed's address during the inauguration:
"We appreciate your time and support here at the opening of our new facility in Dubai. For the past twenty years, we have been perfecting a Microsoft Dynamics Solution for Real Estate in the region. We have an amazing team of professionals who are experts in Microsoft Technology and the Property business. So, I thank you all once again for your presence."

What our guests had to say:
"Metadata is a pioneer in CRM. And I am really amazed by how they have grown over all these years and serving many of the Real Estate Companies. I wish them all the best in their new office in the Silicon Oasis"

"I want to take this opportunity to wish Rasheed and the Metadata team – the very best. Congratulations! I think this is a very good move, to have a new office in Silicon Oasis. And I am sure that from here, they will grow in leaps and bounds. CRM and Dynamics 365 are great places to be in, and I wish them the very best."

With a specialized focus on CRM solutions and domain expertise in real estate with Property-xRM, we look forward to tapping the growing potential in the market.

Property-xRM is an award-winning CRM-based Property Management System, developed by Metadata Technologies, committed to helping real estate companies scale faster. As a Gold Microsoft Partner, Metadata Technologies is a 100% CRM-focused company with 20 years of experience providing Customer Relationship Management solutions for business enterprises across the globe.