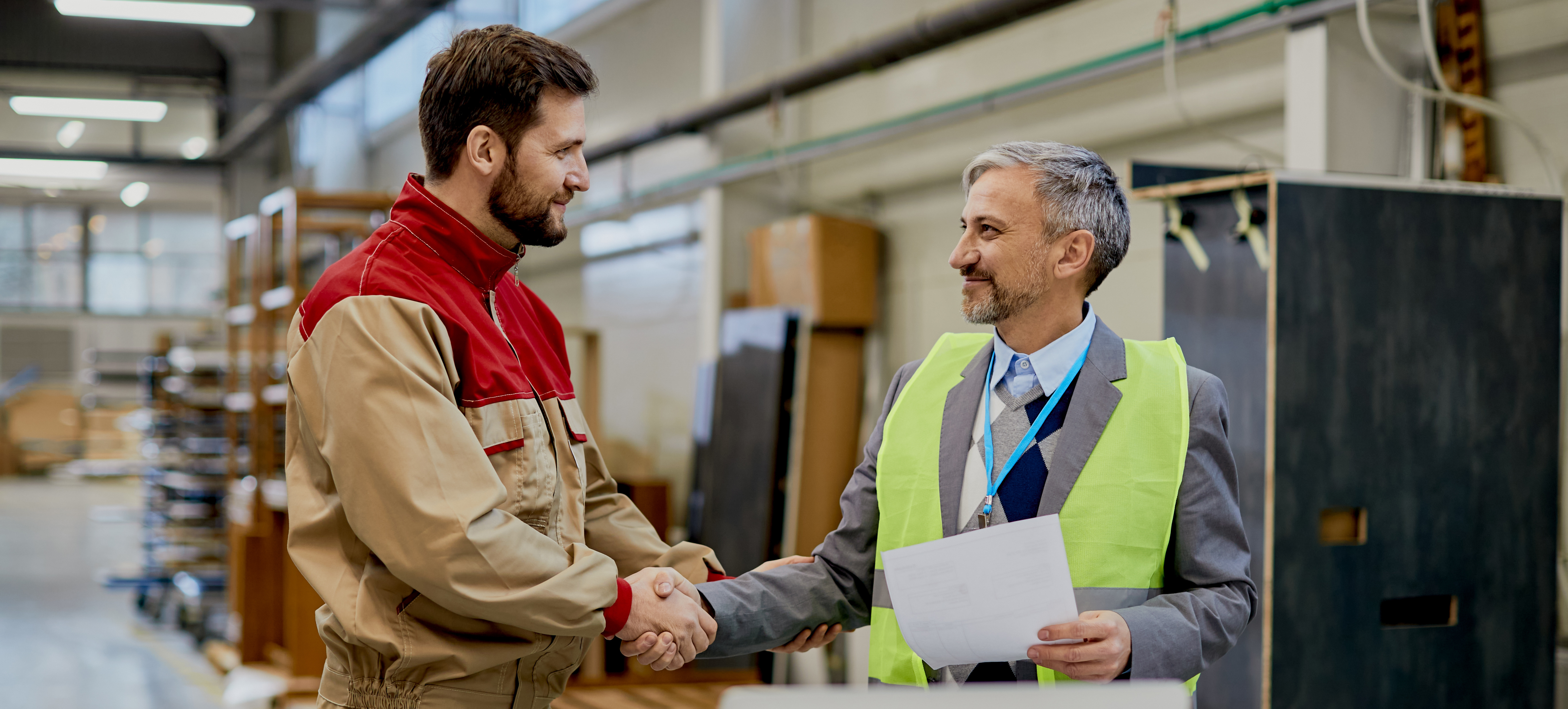 Posted By admin

Aug 15, 2023

12:38:23pm
Property-xRM – Facility Management Software in UAE
In the fast-paced landscape of facility management, staying ahead of the curve is essential for success. Facility Management Software in UAE is revolutionizing the industry, offering a comprehensive solution to optimize operations, enhance efficiency, and ensure seamless facility maintenance.
With real estate becoming one of the predominant contributors to the UAE Economy, the need for FM solutions has never been higher. In this blog, we explore how Property-xRM Facility Management Software is transforming the way businesses in the UAE manage their facilities, making them smarter, more efficient, and future-ready.
Why Facility Management Software in UAE Matters
Facility Management Companies in the UAE face unique challenges in maintaining and optimizing diverse facilities, from commercial buildings to residential complexes and industrial sites. This ranges from soft services like cleaning and security to hard services like HVAC or fire systems.
Traditional methods of manual record-keeping and coordination are not only time-consuming but also prone to errors. And when the scale of operations and the size of FM teams grow, there is no room for such errors. This is where Property-xRM's CAFM (Facility Management) Software steps in, offering a tailored solution designed to address the specific needs of the UAE market. Again, you might think why choose CAFM software? Read more to find out.
Property-xRM Facility Management Software:
Property-xRM is a powerful CAFM software powered by Microsoft Dynamics 365 Field Service. The solution combines the best of both worlds – the latest Microsoft Technology and expertise in the facilities management domain. With over 20 years of best practice in Real Estate and FM Operations, Property-xRM puts together key functionalities for UAE Operations.
Within Facilities Management, Property-xRM covers 2 main maintenance processes:
Reactive Maintenance
Planned Preventive Maintenance
Reactive Maintenance
Reactive maintenance involves addressing sudden issues and breakdowns as they occur. It is to ensure that the facilities are running smoothly. Often referred to as 'breakdown maintenance' or 'run-to-failure', such maintenance involves addressing unexpected equipment failures, malfunctions, or damages.

Since reactive maintenance is all about resolving the issue or requests at hand, Property-xRM ensures end-to-end work order management.
As soon as a service request gets raised from any source, be it a phone call, email, or portal submission, a work order gets created automatically.
This is followed by assigning the most equipped technician for the task based on the skill set and availability. Using a resource schedule board, maintenance supervisors also have the option to manually select technicians based on their availability.
Once a technician is assigned, all parties receive notifications about the work order and the status.
After a work order is issued, SLA (Service Level Agreements) get triggered based on the priority of the job, and necessary provisions are made available to the technician.
Finally, once the job is completed, technicians can capture post-resolution pictures on their app before getting customer confirmation and closing the case.
Planned Preventive Maintenance
Preventive Maintenance takes a strategic approach that goes beyond fixing what's broken and instead focuses on keeping things running smoothly in the first place. By identifying and addressing issues periodically, preventive maintenance helps maintain optimal facility performance.

Planned Preventive Maintenances usually involve third-party contractors who undertake periodic inspections and resolutions. Property-xRM covers all processes right from creating a PPM Agreement until resolution.
Based on the agreed scope of work, agreements are created with the contractors outlining the necessary details like the value, the frequency, the technician details, etc. The agreements can also be printed from within the system, if need be.
Once a booking recurrence is set, work orders get generated automatically on the due dates, thereby triggering the SLA. Resource details, estimated duration of the work, and other clauses are captured in the system.
Invoices against the work orders also get automatically created and integrated with the financial application (ERP). Email and/or in-app push notifications are sent to respective stakeholders.
Maintenance Management plays a critical role in FM operations, and Property-xRM offers a powerful solution to streamline daily operations.
Key Benefits of Property-xRM Facilities Management Software:
1. Seamless Work Order Management:
Facility Management Software streamlines work order creation, assignment, and tracking. Technicians receive real-time updates, ensuring swift response to maintenance requests and minimizing downtime.
2. Online Portals for Tenants, Clients, and Contractors
Property-xRM provides online portals that consolidate all facility-related information, enabling FM Companies to access critical data with ease. The portal serves as a one-stop solution, eliminating the need for cumbersome paperwork and manual record-keeping. This centralized approach streamlines operations, enhances communication, and empowers better decision-making.
Facility Management software like Property-xRM offers portals for clients, tenants, as well as third-party service providers. Some of the main capabilities include:
Client Portal:
Onboarding clients and providing them access to the online portal
Payment options through online medium
Communication options through third-party integrations
Tenant Portal:
Allowing tenants to raise requests and complaints
Viewing and downloading quotations right from the software
Visibility into work order status and ability to make payments
Service Provider Portal:
Registration of the Third-Party Sub Contractors
Document Management
Visibility into maintenance schedules
3. Efficient Asset Tracking:
With the diverse range of assets in UAE facilities, tracking and managing them can be a challenge. Property-xRM Facility Management Software provides a centralized database for assets, including maintenance history and warranty information, ensuring optimal performance and reducing costs.
4. Resource Allocation and Management:
Facility Management Software helps in allocating resources effectively, assigning tasks to the right technicians based on skills and proximity. This maximizes workforce productivity and ensures timely service delivery.
5. Enhanced Customer Experience:
Happy occupants and tenants are essential for facility success. The online portals help manage tenant requests, track service delivery and improve overall customer satisfaction. They can raise their requests, view associated invoices, chat with representatives, and much more using the portal.
6. Real-time Analytics:
Property-xRM leverages Dynamics 365 reporting engine as well as native Power BI capabilities to provide actionable insights through real-time analytics. Data-driven decision-making enables continuous improvement and strategic planning for facility managers.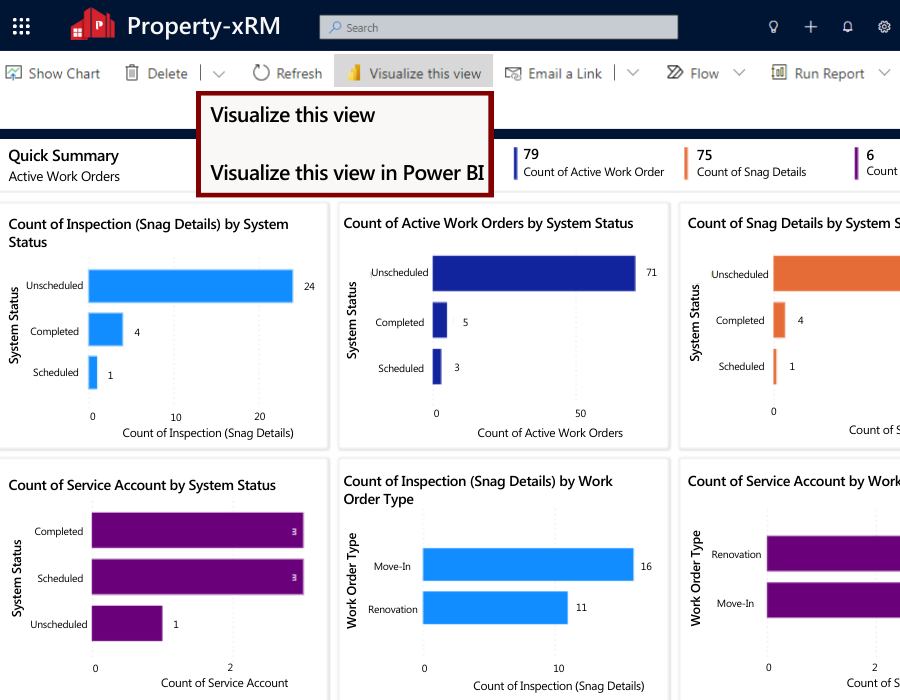 Choosing the Right Facility Management Software:
Selecting the ideal Facility Management Software is a critical decision. Look for a solution that offers a user-friendly interface, customizable features, robust support, and scalability to accommodate your facility's growth.
Property-xRM: Facility Management Software in UAE
Facility Management Software in UAE is transforming the way businesses manage their facilities, offering a comprehensive, streamlined solution for a range of challenges. From work order management to asset tracking, FM Companies are empowered to deliver exceptional service, reduce costs, and enhance customer satisfaction. Embrace Property-xRM to unlock unparalleled efficiency and success in the dynamic landscape of UAE's facility management industry.