Posted By admin

Jun 27, 2023

11:07:53am
8 Amazing Features of Property-xRM Retail Leasing Software
Do you find managing a large volume of properties and leases challenging? Are you facing a hard time tracking critical lease information and dates? Do you have difficulties in streamlining communication between landlords and tenants, and optimizing operational efficiency? That's where Property-xRM Retail Leasing Software can help you maximize retail revenue and reach faster store openings.
Centralized and organized lease management, automated notifications and reminders, enhanced collaboration features, and analytics to optimize decision-making, all of which ultimately improve the overall efficiency and effectiveness of the retail leasing process.
Being a one-of-kind CRM Retail Leasing Software built on Microsoft Dynamics 365, it offers some amazing features:
1. Centralized Lease and Offer Management
Property-xRM Retail Leasing Software provides a centralized platform to manage all aspects of retail leasing, including lease agreements, tenant information, rental payments, and lease terms. It streamlines the lease management process, allowing retail leasing professionals to access and update lease data in real time easily.
Easily track contract details, critical dates, payment histories, and period-wise rent details to always be up-to-date on any developments. A one-to-many relationship between a lease, contact, and properties allows agents to systematically track all the active contracts associated with each of the entities.
At the time of offers and proposals, users have the flexibility to capture different payment options across, but not limited to Fixed Rent, Fixed Rent + Percentage Rent, or Percentage Revenue. With single or multi-level approvals, additional discounts and additional utility or service charges can be added as well. The system offers the capability to handle rental support periods and the design-to-store opening process.
2. Tenant Relationship Management
The software facilitates effective tenant relationship management by providing a comprehensive view of each tenant's information, lease history, and communication records. It enables leasing agents to maintain strong relationships with tenants, manage corporate customer profiles, track tenant preferences, and address any concerns or issues effectively.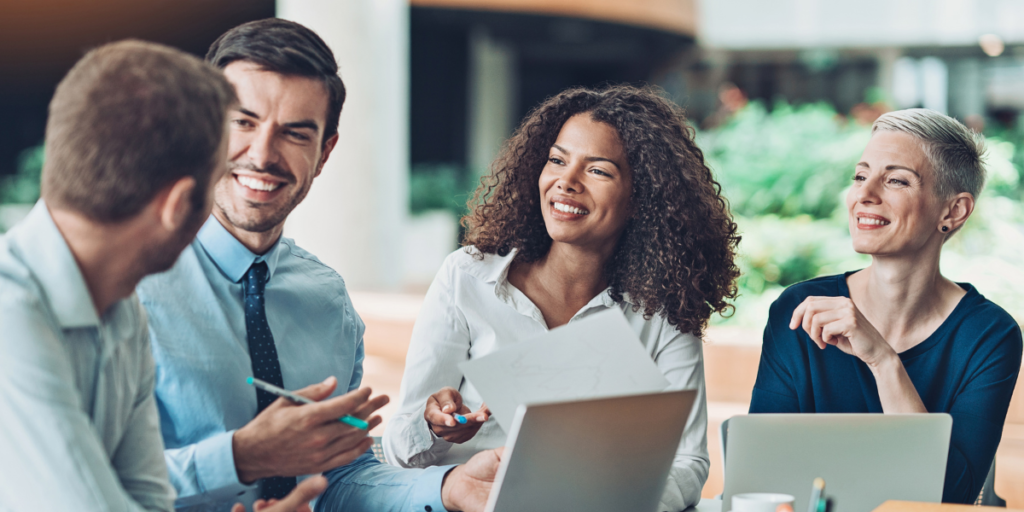 With the added ability to associate primary contacts and associated contacts under a brand or an account, Property-xRM allows easier tenant segmentation. Leveraging the latest Microsoft capabilities, gauge the relationship strength with smart AI-generated analytics to prioritize interactions with tenants.
3. Inventory and Space Management
Property-xRM assists in viewing available retail spaces and their allocation to tenants through smart inventory management capabilities. It helps retail leasing professionals track and visualize space availability, square footage, and other relevant details. This ensures efficient space utilization and lets leasing agents quickly identify and allocate appropriate spaces to new or existing tenants.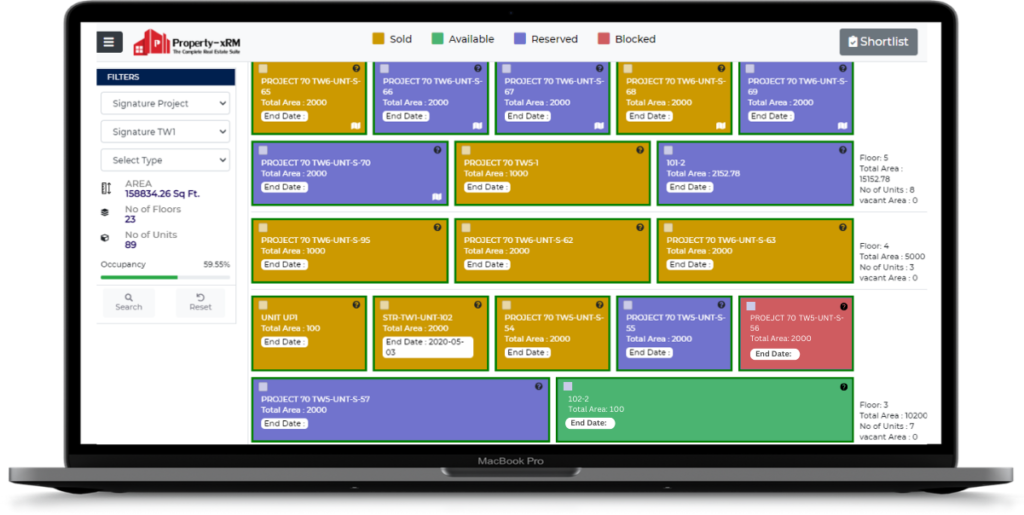 With a color-coded stacking plan that provides real-time status of units, lease executives can make faster decisions while prospecting. One can also attach floor plan sample images, 3D walkthroughs, and clearly define amenities to provide a comprehensive view of the leasable unit.
4. Post-Lease Management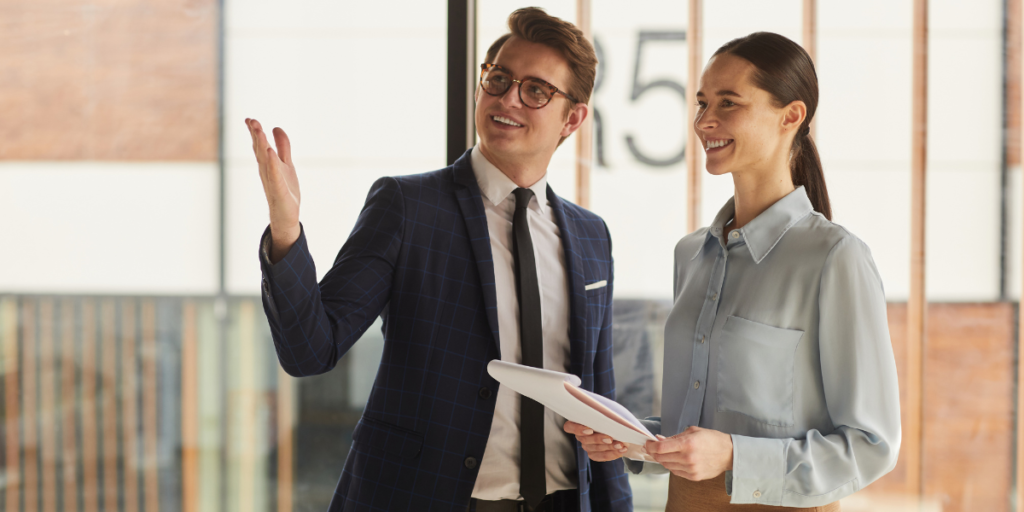 Property-xRM Retail Leasing software automates lease renewal and termination processes and provides timely notifications to leasing agents and tenants regarding upcoming lease expirations. Users can create dashboards that can automatically prompt on leases expiring in 30, 60, or 90 days, eventually helping in generating more revenue.
It helps track important dates, send reminders to tenants, and streamline the negotiation and documentation process, improving overall operational efficiency. The flexibility to undertake unit splitting and merging automatically calculates the change in rent and rental area leading to hassle-free processes.
5. Financial Management
Property-xRM, being an operational CRM Property Management system, integrates with third-party ERP or finance applications. At the same time, it assists in financial management through rental invoice creation, payments tracking, financial performance monitoring, and financial report generation. This streamlines financial processes and ensures accurate and timely financial management.
The finance team can be notified of schedule-based invoice generation. If need be, security roles can be defined to restrict invoice and payment-related operations to the finance team only.
6. Analytics & Reporting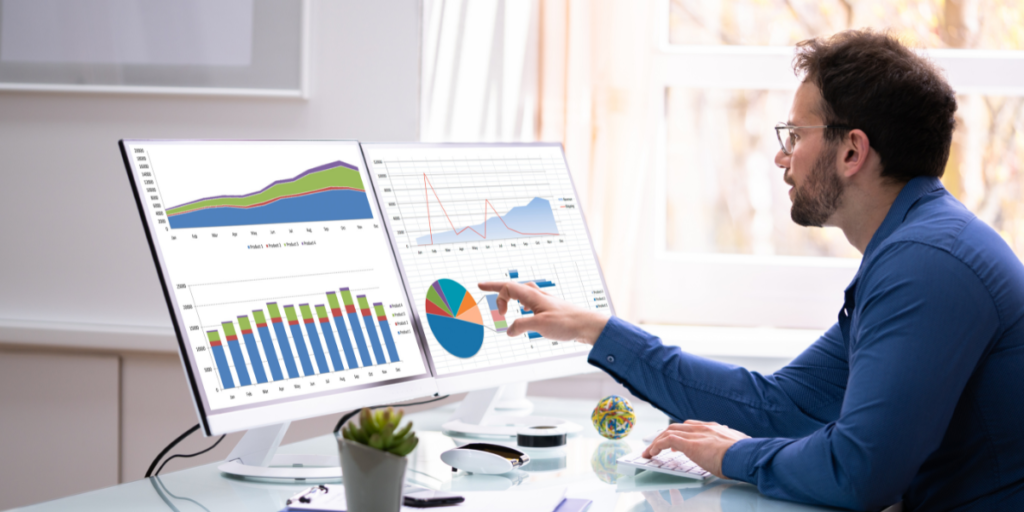 The software offers advanced analytics and reporting capabilities to gain insights into retail leasing performance. Users can generate custom reports, track key performance indicators, analyze lease data, and identify trends and patterns. These insights aid in making informed decisions, optimizing leasing strategies, and improving overall operational efficiency.
Some of the out-of-box dashboards pertain to key operational functions like the vacancy or inventory status, total lease, revenue, contract details, payments and due payments, key documentation, final settlements, rent rolls, and much more.
7. Lead Management
Lead management for retail leasing with Property-xRM is a comprehensive solution designed to streamline the process of acquiring and nurturing potential tenants for retail properties. Retail executives can efficiently capture, organize, and track leads throughout the entire leasing cycle. With the LinkedIn database natively coming under the Microsoft ecosystem, users can target and manage interactions with the relevant stakeholders of prospective brands.

Property-xRM offers them the ability to capture leads from various channels including Walk-ins, emails, phone calls, Websites, SMS, and more. It offers features such as lead generation, automated follow-ups, appointment scheduling, and technical meeting/offer management enabling leasing teams to optimize their efforts, enhance customer relationships, and ultimately maximize occupancy rates for retail spaces.
8. Integration with Microsoft and Third-Party Applications
Property-xRM is built on Microsoft Dynamics 365 and leverages the platform's integration capabilities. It can seamlessly integrate with other Microsoft applications like Outlook, Excel, and Power BI, as well as third-party tools and services. Microsoft's open platform with 200+ connectors allows an easier flow of data to and from other applications. This allows for a unified and scalable solution that can adapt to the evolving needs of the retail leasing sector.
Property-xRM Retail Leasing Software
These are just a few examples of how Property-xRM Retail Leasing Software, built on Microsoft Dynamics 365, can benefit the retail leasing sector. It aims to streamline processes, enhance tenant relationships, improve financial management, and provide valuable insights to drive operational excellence in the retail leasing industry.
Learn how we can help your business: Set up a Free Demo right now!