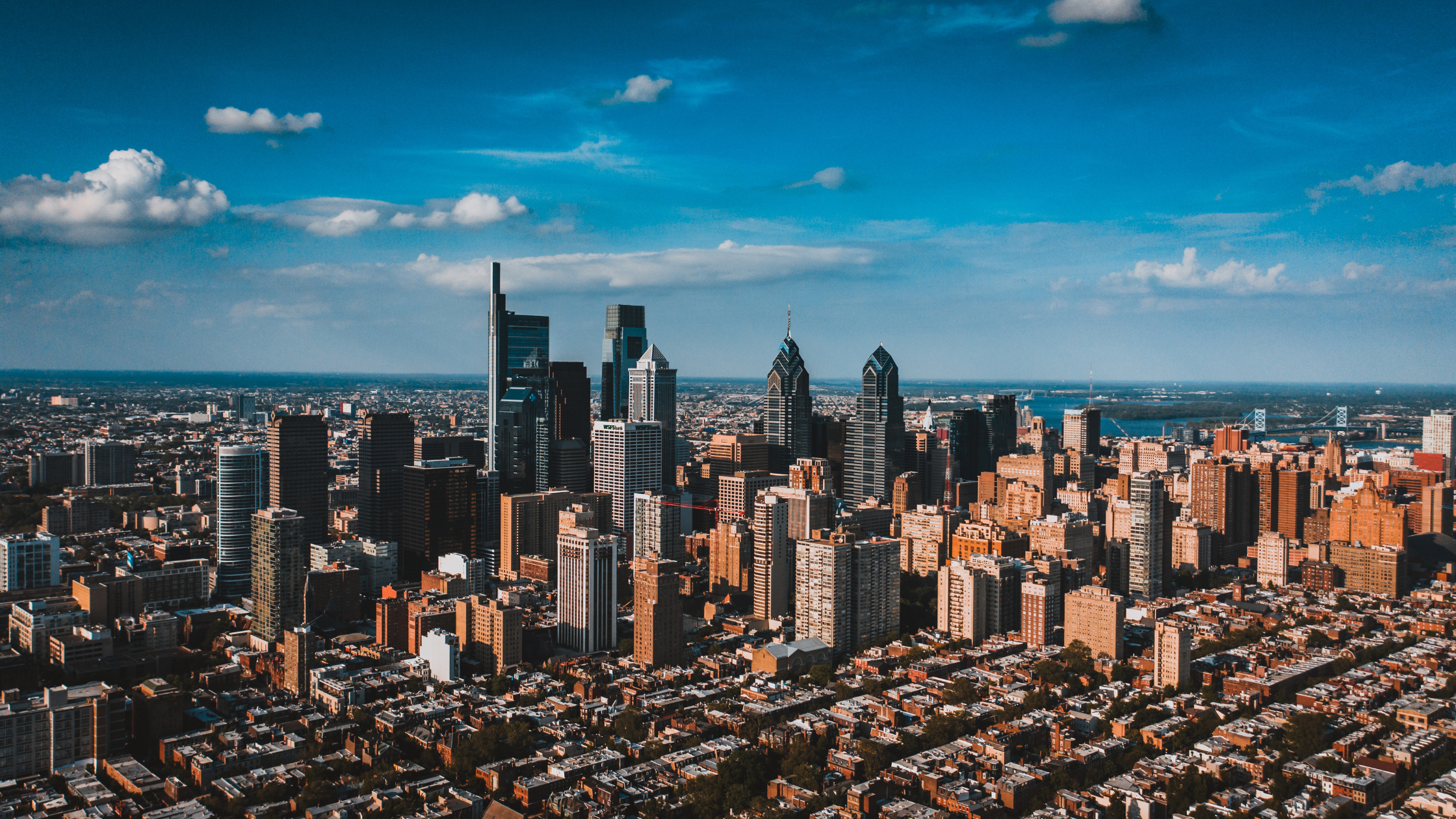 Posted By admin

Jul 28, 2023

11:08:23am
Unlock Success with Property-xRM Real Estate Sales Management Software
In the competitive realm of real estate, constantly generating high-quality leads is essential for success. Even more important is managing the leads and ensuring none of them fall through the cracks. Property-xRM, a cutting-edge CRM software built specifically for the real estate industry, revolutionizes lead generation efforts. Here, we will explore the power of Property-xRM real estate sales management software in driving lead generation and management.
Learn how it transforms businesses in the following six ways:
1. Centralized Lead Management
Effective lead generation requires a centralized system to capture and manage leads efficiently. Property-xRM real estate sales management software provides a comprehensive platform that consolidates all your leads in one place. Seamlessly capture and categorize leads from online sources like listing websites, social media, or marketing campaigns ensuring no opportunity slips through the cracks.
With a centralized database, get better easy access to valuable lead information, enabling you to prioritize and nurture prospects effectively. This promotes swift responses which significantly increase the chances of converting leads into clients. A systematic system ensures that no lead goes unnoticed, facilitates efficient communication, and empowers agents with data-driven insights to enhance their overall performance.
2. Intelligent Lead Scoring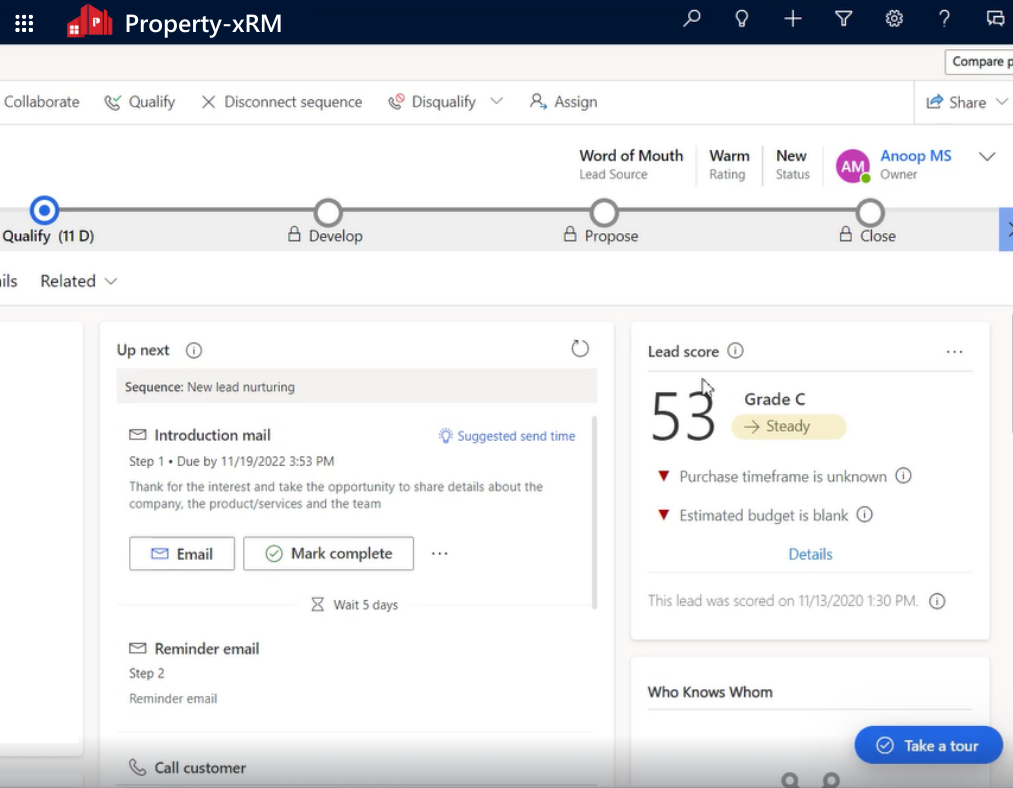 Qualify stronger leads with AI-infused predictive lead scoring based on set organizational criteria.
Not all leads are created equal, and identifying the most promising ones is essential for optimizing your resources. Property-xRM incorporates intelligent lead scoring, a powerful feature that helps you prioritize and focus on the leads with the highest conversion potential. By assigning scores based on criteria such as budgets, timeframe, and need, while studying the history of past conversions, the system helps you identify hot leads. This allows you to allocate time and resources wisely, maximizing your chances of success.
3. Automated Lead Nurturing
Nurturing leads is crucial for converting potential homeowners into residents. Property-xRM offers automated lead nurturing capabilities that save you time and effort. Users set up sequences using personalized drip email campaigns to engage with leads at every stage of their journey, providing relevant and timely information.
With the latest in Microsoft technology, users can also be notified of the next best actions to take a lead forward using AI and Machine Learning capabilities. The real estate sales management software's automation capabilities also allow you to schedule follow-ups and track interactions, ensuring a consistent and personalized approach to lead nurturing.
4. Effective Marketing Campaigns
Property-xRM marketing management solution empowers you to create and execute highly targeted and engaging marketing campaigns. With robust segmentation capabilities, you can divide your leads into static or dynamic marketing lists based on criteria such as location, property type, or budget. This allows you to tailor your marketing messages and deliver personalized content that resonates with each segment.
Property-xRM's integrated email marketing tools enable you to design visually appealing campaigns and analyze the effectiveness of your marketing efforts. Users can track campaign analytics to monitor bounce rates, measure click-through rates, and also get a detailed summary view of the marketing list.
5. Conversational Intelligence and Relationship Analytics
Consistency and promptness in follow-ups play a crucial role in converting leads into clients. Property-xRM leverages the power of Microsoft Dynamics to provide key insights into the health of the relationship with the customer. Sales executives can get into the weeds with detailed relationship summaries and KPI tracking of things like time investment and comparative interactions.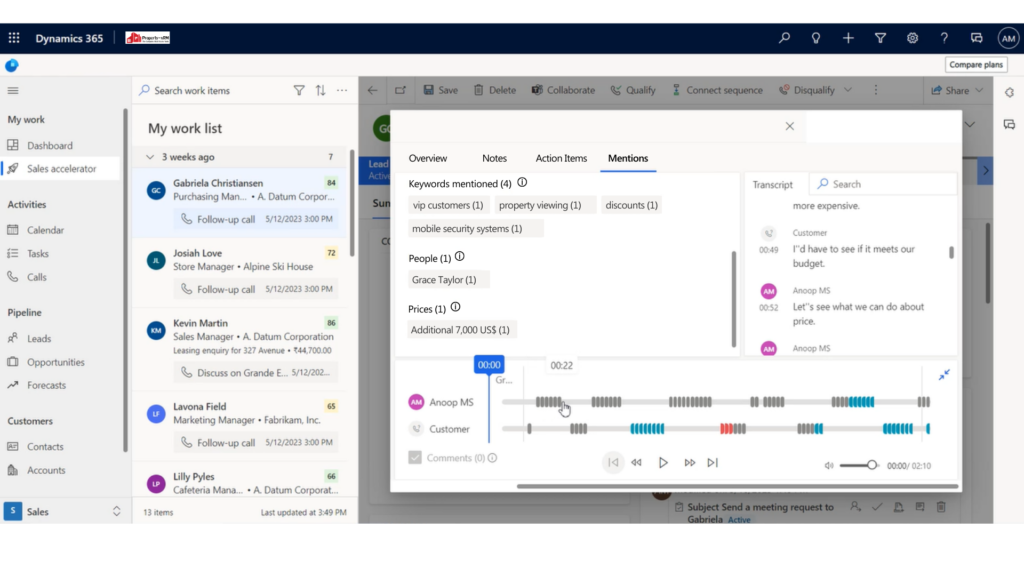 Using native Microsoft Teams capabilities, phone calls or meetings can be directly recorded, transcripted, and analyzed for future reference. Key points of discussion, sentiment analysis, and action items can automatically be generated to empower users with all the information they need.
The system generates reminders for follow-up calls, property showings, or scheduled meetings, ensuring you never miss an opportunity. Property-xRM-Microsoft Dynamics 365's intuitive interface and user-friendly dashboards keep you organized and on top of your follow-up activities, allowing you to maintain strong connections with leads and foster trust and loyalty.
6. Insightful Analytics and Reporting
To refine your lead generation strategies, it is essential to have access to insightful data and analytics. Create customizable views, reports, and dashboards leveraging built-in Report Wizard, SQL Server Data Tools, Microsoft Flow, and Power BI.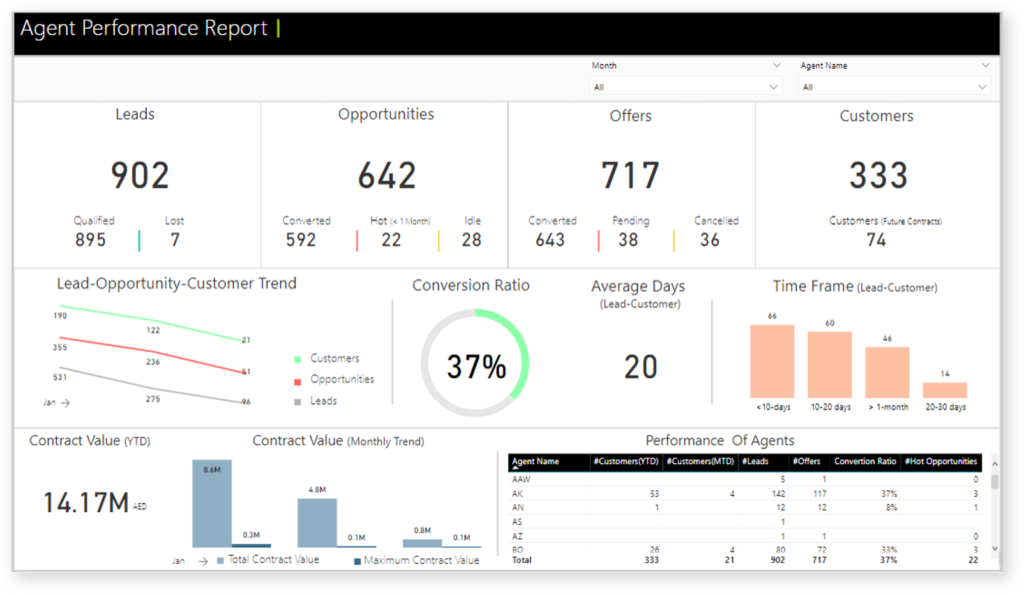 Property-xRM offers robust reporting features that provide valuable insights into the performance of your lead-generation efforts. Track metrics such as lead sources, conversion rates, and campaign effectiveness to identify inquiry-to-deal trends. Make data-driven decisions and optimize your sales and marketing strategies. With Property-xRM's analytics capabilities, you can continuously refine your approach and unlock the full potential of your lead generation activities.
Embrace Property-xRM Real Estate Sales Management Software
In the dynamic world of real estate, effective lead generation is the key to unlocking success. Property-xRMreal estate sales management software tailored specifically for the industry empowers you to take your sales pipeline to conversions. With centralized lead management, automated nurturing, intelligent lead scoring, targeted marketing campaigns, streamlined follow-ups, and insightful analytics, Property-xRM offers a comprehensive solution to drive your real estate business forward.
Embrace the power of Property-xRM and unlock a world of opportunities in real estate lead.